4 REASONS YOU NEED DUELING PIANOS® OFFICIAL ENTERTAINMENT AT YOUR FUNDRAISER
From helping to raise money and awareness for worthy causes to boosting employee engagement, morale and even retention rates in some cases, fundraisers account for approximately $4 billion in annual charitable giving according to industry data. But a successful fundraiser involves more than asking for a donation or selling tickets or merchandise to raise funds. Like any transaction, fundraising also involves relationship building that will add both value to the event and organization, and reward donors and guests for their generosity and commitment to the cause.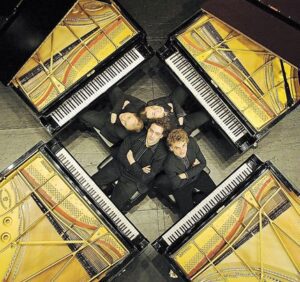 Whether your event is designed to raise funds and awareness for education, the environment, or medical issues, offering dueling pianos road show entertainment can help elevate your fundraiser to the big leagues.
WHAT HIRING DUELING PIANOS ROAD SHOW ENTERTAINMENT CAN BRING TO YOUR FUNDRAISING EVENTS
Fundraisers may come in all shapes, sizes, budgets and status levels, but the impact and benefits of humor and music are universal. Studies have found that music and comedy can help with everything from reducing stress and anxiety, to fostering empathy. Simply put, making people laugh will make them feel good, and in turn even more sympathetic to your cause, whatever it may be. Add Dueling Pianos music, and you have success in fundraising!
To help generate buzz, motivate staff and volunteers, and make the most out of your next event, consider some of the many benefits of booking for your next private, corporate or non-profit fundraiser.
Generate Attention and Interest in the Event
Hiring Dueling Pianos Road Show is a great way to make an event fun and entertaining, and can also help to draw a larger and more diverse crowd. Even dedicated donors can use a little motivation to attend or volunteer at a fundraiser (as opposed to just mailing in a check, which is fine too). An interesting act or entertainer can also help to attract new donors who may be unfamiliar with your cause or organization.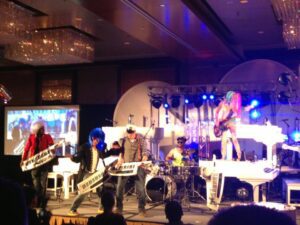 Dueling Pianos+DJ add value to the Event and Cause
Although fundraisers are designed by nature to raise money for a good cause, which is obviously its own reward for most people, at an institutional level they are still events that need to be marketed like any other. Booking Dueling Pianos Road Show will elevate the perceived value of the ticket, and help to encourage larger donations at the event, via song requests and the interactive show and possibly in the future.
Make It Fun Sing-a-long! (Happy People are Generous People)
It might be a well-worn cliche, but there is a reason why people say laughter is the best medicine. Even fundraising events that deal with serious issues like natural disasters or illnesses can benefit from the levity and dose of optimism by way of a good laugh. Dueling Pianos can warm up the crowd gradually and build up positive associations with the program's issue and message.
Thank and Reward Your Donors and Guests
People donate to charity and various causes for a number of reasons, and most would agree that they do not expect a reward for their generosity. However, with seemingly endless options for worthy places to give, showing donors and guests at your fundraiser your gratitude and appreciation for their patronage can help to build lasting relationships and encourage future giving. It will also make your event stand out among a crowded field.
How to Create a Dueling Pianos Fundraiser or Charity Event:
Just as the name suggests, a dueling pianos fundraiser consists of two pianists able to match wits while tickling the ivories. The event typically includes a sit down dinner so it feels like attending a show.
Pick a Venue
Since you will need to have two full-size grand pianos, lighting and sound in the room, look for a venue with a large stage or open space and doors that open to accommodate them. If you have access to a music hall or theater that already owns two pianos, it can save you time and energy.
Venues that work well for Dueling Pianos Fundraisers include:
Community center
School or college
Center for the arts
Church
Airplane Hanger
Warehouse
Night Club
Bar
Restaurant
Hotel Ballrooms
Event Centers
Convention Centers
Select a Skill to Showcase
Pit the pianists against each other in a night-long contest of who can play the longest, loudest, most recognizable, or most difficult songs. Choose one skill to focus on for the entire event or designate one per hour.
Plan the Menu
This type of event works best with a dinner and a show format, so it appeals to even those who do not love live music. Comedy and bits and skits make it a great show, in addition to the music. Plan for a sit-down dinner so guests will not be moving around a lot taking attention away from the pianists. If you have volunteers who can provide the meals, it will save you money, but hiring a catering company can make the event feel more formal.
Send Invitations and Sell Tickets
A dueling pianos night often involves not only great music, but also stand up comedian, toasts, trivia, sing-a-long, games, food, fellowship, and plenty of audience interaction. Make it clear on invites and marketing materials this is an entertaining event for all ages. Include tickets with the invitation so recipients can easily purchase them or try to sell them for you. Ticket sales are how you will make money from the event, so price them well.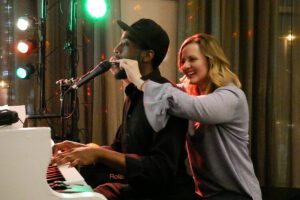 Include Tipping Competitions
Make some extra money during the event with structured competitions involving guests dropping monetary tips in each piano's tip jar.
Stop the Song Challenge – A guest puts a tip in the jar for one piano and requests a song to be played by that musician. At any time, another guest can put a tip in the same jar to stop the playing of the previous song and request a new one.
Rivals Challenge – Choose two rival teams, movies, or famous artists like The Beatles verses The Monkeys or Rent verses Chicago and designate a tip jar for each one. Ask guests to vote for which they'd like to hear a song from by dropping tips in the appropriate jar.
Fast or Slow – Choose either fast or slow for a designated time such as thirty minutes. During that time, every tip placed in the jar requires the pianists to either speed up or slow down their tempo. Change the speed every fifteen to thirty minutes to keep guests engaged.
Tips and Details for Dueling Pianos Success
The success of this fundraiser hinges largely on ticket sales and pianist's personality. Make these planning steps a priority by paying extra attention to their details.
Choose a date wisely by steering clear of holidays or other major area events to increase your sales
Maximize guest experience by arranging all tables so every guest is facing the pianos. Try using square or rectangle tables with guests only seated along one side and each end.
Work with us to select all the music for the evening in advance Give pianists license to serve the role of emcee, making announcements throughout the event to stay engaged with the crowd
Engage With Dueling Pianos Road Show Entertainment
While you plan, keep in mind the event is a fun fundraiser, not simply a piano concert. The more opportunities guests have to interact with the pianists in a fluid way, the more exciting the event will be and the more money will be raised!