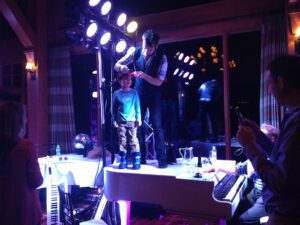 This is probably one of the more common questions we receive at Dueling Pianos Road Show World HQ. If you're like most folks, you've seen our full show in a club or at a bar, or you've seen one of our players in Las Vegas or Seattle or Mars or Toledo, and you says to yourself, "Self," you says, "These guys are funny and handsome, and the women are so beautiful and talented. I wonder if they can do a less crazy/raunchy show for my son Toledo's birthday party."
Well wonder no more, you thoughtful so-and-so!
The answer is a resounding YES! In fact just this weekend, the Roaring Fork Club in Basalt, Colorado found out first hand just how fabulous Dueling Pianos can be for an audience of mixed ages.
Fact is, the Dueling Pianos Road Show is for more than just a rowdy club night. It's for more than just a sold-out bar show in Toledo. Perfect for your family get together, a birthday, a retirement, a sales celebration for your company, or anything else you might be able to dream up, the Dueling Pianos Road Show can work with you on any content you'd like (or not like) at your party.
Call us today to start booking the best party you've ever thrown!