There was a time in Your Humble Correspondent's life that I thought the keytar — long a staple of the new-wave bands I so loved tolerated — was a made-up instrument, an invention of the musical industrial complex to capture the imagination of kids just like me who wanted to be able to stand up and play keyboard at the same time. No way could that be a real thing.
I was wrong. Oh, how wrong I was.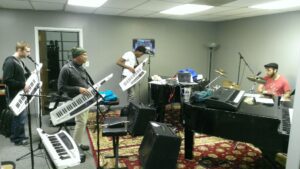 It's this knowledge that led Dueling Pianos Road Show musician Paul Seiz to take charge of one of our newest entertainment packages, Keytar Heroes.
Picture this for your next party or event: Four keytars, eight hands, which is… carry the one… 40 LIGHT-UP FINGERS. Maths: I haz them.
Anyway, the Dueling Pianos Road Show is now offering a Keytar Heroes package, which includes our finest performers with rehearsed songs and bits exclusively for the Keytars, full lighting and sound, and the aforementioned light-up fingers, to entertain your corporate event or party. There is literally nothing like it in the entertainment universe.
Contact us today to learn more!