Dear Rapid City,
Thank you so much for the hospitality you showed us while we were in your delightful little burg. We will spread tales of your lovely downtown, your flowing drinks, and your delightful womenfolk throughout the countryside.
Also, we will probably talk about the dude we kicked off the tourbus for various infractions, including Collar Popping and Faux-Hawk Wearing, both of which are high crimes and also too for serious WHO LET HIM ON THE BUS IN THE FIRST PLACE? I would like very much to blame Gordon Von.
I hope he has recovered from the size 12 boot he took to the chest.*
Also, Rapid City, thank you SO MUCH for getting our driver Bob hammered a couple of times. He's the best, especially when he's had too many whiskeys and is speaking in a language all his own. We'll call it Bobbinese.
We also took a day and hit up Deadwood, SD, which was pretty rowdy. It totally had the best crap in the crap stores that we'd ever seen before in a crap store, so we bought some crap and wore it on stage because we love that crap. Also, wigs: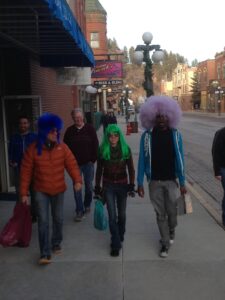 And our special little guy Caz got to be Sheriff for a day. And I think we're all most thankful for that.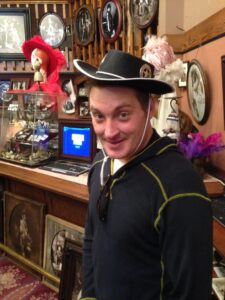 For these and other gifts, we thank you Rapid City. We look forward to not remembering our next trip to see you.
Love,
DPRS
PS: Oh yeah! If you want to follow us on Twitter, you should probably do that. @DPRoadShow1 And if you like the whole faceybookey thing, you should add us as a friend and also too LIKE us there. Mount Rushmore said it would be a good idea.
*not intended to be a factual statement